METAL MAGNETISM radio show has been fiercely raising a hell of a mess on the FM in northern France for 19 years now.
As the name tells, you sure guess it's about neither accordion music nor 12th century baroque music here, especially as baroque music only appeared in the 17th century.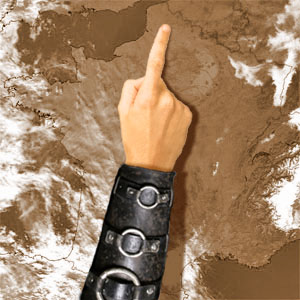 For quite a couple of years now, we've been based in RADIO 13 premises in Sallaumines, in the county of Pas-de-Calais, where the winters are so cold and desperate and the grass is the colour of concrete and all that kind of... sorry, this one's just some French private joke.
Now we've got rid of this meteorological and botanical stuff, well… METAL MAGNETISM is a three headed musical body, comprised of Jean-Luc, David and Laurent. A long time ago, we actually took the pledge that we would give up the booze until Metal rules the world… and it's getting f***ing thirsty round here. So we play all kinds of… Metal, you dunce! Leave that joystick alone or you're dead!… And the whole stuff comes round once a week (every Friday from 8:00 to 11:00 p.m. GMT+02:00) in our radio show, which is delicately cut up in a set of tender, juicy slices:

The album of the week: Brand new stuff which actually kicks ass and splashes brains to the walls. Three songs are selected and played all along the show, so that you guys (and girls) can make your own opinion. After all, we've never claimed we were on top of good taste…

The flash-back: Three songs again, but this one is devoted to ancient stuff, like Ramses II's Grind period or Erik the Red and his Viking Metal band's second album (first live album ever recorded on Greenland, during Erik's famous world tour). OK, it's not that old: a few years, a few months, sometimes only a few weeks. A nice occasion to remember some good old times or give a second chance to a record that was misunderstood in its time: not necessarily grand, but good stuff anyway. Hey, we sometimes remove the dust from a good old vinyl!

The Thrash, Death and Black Metal slices: No need for a sketch here: Extreeeeeme! Two slices a week, as the doctor butcher ordered. Seasoning depends on arrivals: Black Metal releases are particularly scarce in summer, as the guys fly down to the Antarctic Circle because the daylight is 24 hours long in Norway at that time. Four or five songs each.

The new albums slice: Need some explanation?...

The slice of Foreign Affairs: You will know all about one particular country with this sequence: capital, population, Gross National Product… and a choice of four to six folkloric tunes performed by local Metal bands. By mutual agreement, the Finnish sequence is dedicated to Michel D., the greatest LORDI fan on Earth. Finland rules, hey Mike?

Locals only: French bands only here, sorry. Locals? Well, it's a big world, isn't it? Come on, you've got yours just above!

The cool song of the week: A time for meditation, which allows us to go in for a little yoga (strawberry is our favourite flavour).

The "Live at Budokan" slice: A slice of live music… out of live albums! Well, you know… there's not enough room to have KISS play in our studio. Not yet!

The eclectic slice: This one comes in by the evening's end. It's something like a hotchpotch where we gather all the cool stuff that didn't fit in the other jars. It also helps keeping up with the clock, just in order to be ready when the beerman… err… the sandman arrives.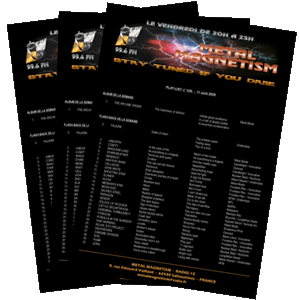 But our job doesn't consist only in defying the raging downpour every Friday (for those with a bad memory, this is northern France) to be there on time behind the microphone (on time or approximately for those who can't stand the rain), feed the CD player and make a couple of corny jokes. There's a lot of work before and after the show. But corny jokes are pathological!

BEFORE the show: Stuffing our heads all week long till we almost stumble on the mountain of CDs that pile up in our mailbox. Then we spend our last resources choosing the best tunes for the menu and typing the synopsis. Thanks god (or whatever you think is appropriate here) we are three!

AFTER the show: When the party's over and you're sleeping into the arms of Morpheus, or whoever you think is appropriate here: girlfriend? boyfriend? inflatable doll? teddy bear? the complete works of George W. Bush? (err, may we have the teddy bear, then?…), there's still a lot of work for us. Then we get in touch with our double agents in record companies (please take a look at our "Partners" page), who regularly feed us with information and brand new albums to play for your pleasure. We also have to answer tons of mails from our fans and, last but not least, feed this f***ing web site with reviews, slices of French culture and stuff!
We also have to type those play-lists that were once dispatched all over the world through the valiant French Post Office agents, boastfully riding their bright yellow bicycles. Now we use the internet weekly but don't worry, Mr Postman and the charming Miss Postwoman are not out of work because you guys (and girls) send us tons of albums from the whole world.
Now, if you're the kind of maniac that want to know what the album of the week was on November 10th, 1995, you'll find the answer in the "Play-lists" page (if you're lazy, it's Ozzy Osbourne's Ozzmosis).



Now we're coming to the end, you know almost everything about METAL MAGNETISM. Well, not everything because we don't tell about what's going on here after the show (but who cares?).
And there goes our noble pledge (the seek for the Holy Grail is kind of overcrowded nowadays…), brothers (and sisters), fighting for our common cause which we always serve earnestly but not that much, anyway. And the final word is credited to our colleague Vanessa Warwick, as she said before she took Holy Orders with the Good Sisters of the Grande Chartreuse (good liquor distillers, indeed):
STAY TUNED IF YOU DARE!...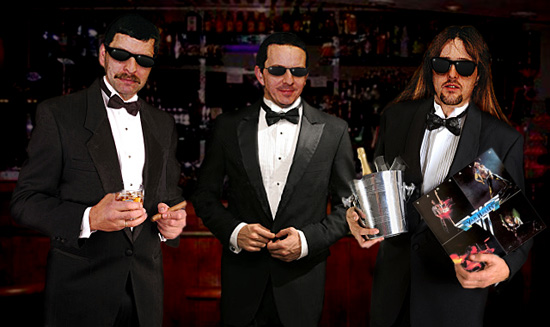 On the picture above, you can see METAL MAGNETISM's dream team in a difficult concentration phase, about to take control of RADIO 13 studios and spread floods of delightful music over their dearest audience. And this means you too, girls!...