reated by Philippe, Ludovic and Jean-Pierre from the ashes of SAVAGE ROCK, which entertained the Heavy Metal fans of Lens area during three years, METAL MAGNETISM radio show was born on November 7th, 1989 on RADIO TELEX - 100.4 FM in Noyelles sous Lens (Northern France).

A little later, Ludovic and Jean-Pierre had to quit because of professional obligations. Philippe kept the show running by himself on Tuesdays every fortnight, till the arrival of Jean-Luc in August 1990, which enabled the show to appear once a week.
David, bass player in famous local band WAX SQUIRE (ever heard of them?) which had called in for an interview in February 1990, was invited to join the team in February 1991. Then the show moved to Fridays from 8:30 p.m. to midnight.
Last but not least, and still after an invitation for an interview in March 1991, Laurent came occasionally to give a hand with the show, and finally joined METAL MAGNETISM shock troops in June 1993.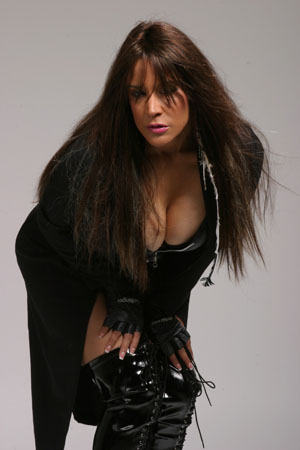 The result was a homogeneous team in which four complementary personalities started to ensure every week a varied program, A.O.R. consorting with the most extreme Metal, playing good old and brand new stuff alike.

So the show carried on, interviewing dozens of regional or national acts live in the studio and recording after-gig conversations with foreign bands such as FREAK OF NATURE or B.M.R. (thank you, guys!).
But this was all too good to be true: on December 17th, 1994, RADIO TELEX was taken over by a national radio network playing some shitty music just to fill in the waves between the brainwashing commercials. Consequently, the whole team was fired, regardless of more than five years of "good and faithful service", which resulted in a total of 247 METAL MAGNETISM shows at that time.

Unwilling to quit their way to fame and money (!), the guys got in touch with other local radio stations. About two months later, the show was back on RADIO 13 - 99.6 FM in Sallaumines on Monday evenings (9:30 p.m. to midnight).
Taking advantage of their professional background (who's laughing over there?) on TELEX, they decided to keep the same recipe as to the conception of the program, the promotion of the show and the partnership with record companies. On November 3rd, 1995, the show resumed its Friday weekly broadcast from 8:00 to 11:00 p.m., which proved more convenient for most of the audience.

And it's been rolling on ever since that date, although Philippe had to leave in January 1998 due to damned professional reasons again. But his spirit is still around the place and the three survivors hope they've kept the thing just like he planned it to be in the beginning.

On November 6th, 2007, the show opens up to the world since RADIO 13 programs are henceforth streamed on Internet.

Finally, on May 13th, 2008, it's the official launch of METAL MAGNETISM website you're reading by the way…

The picture above, which prevents you from correctly reading the text, has unfortunately nothing to do with our story. She's Veronica Freeman from BENEDICTUM and it's only to make this boring biography pleasant…